Every participant of the Marathon can get free by mail a «Certificate of the Marathon Participant», printed on heavy paper ~21 x 21 cm. In order to get it, you need to specify the mailing address in the first report for mailing the Certificate.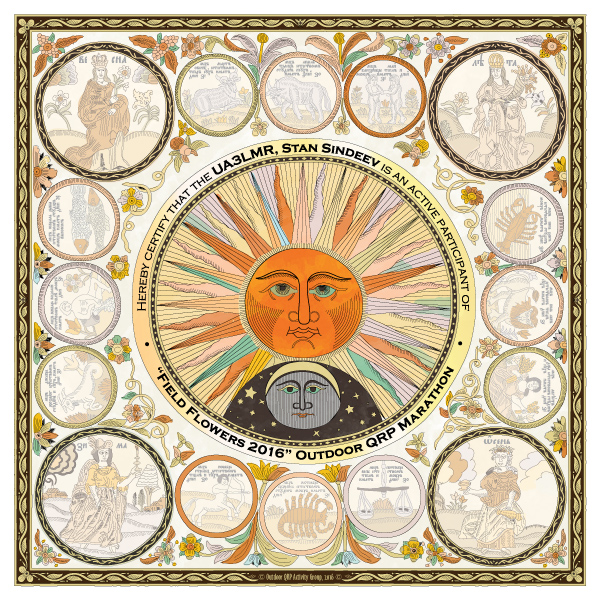 If you want you may upgrade your Certificate by special varied stickers — signs of your activity during the year. Places for 12 varied small monthly and 4 varied larger seasonal stickers are envisaged, sizes are ~3 and 5 cm respectively.
Small monthly sticker will issued for at least one valid QSO during at least one outing in corresponding month.
Larger seasonal sticker — for participation in seasonal Activity Days, dates of seasonal Activity Days will be specified later. Besides that you can get one small sticker for a missed month in the season — note it in your report.
Larger seasonal sticker may be issued without taking part in the seasonal Activity Days, if you have participated in the Marathon every month of season in common mode.
In order to get sticker you should request it at your report, specify postal address and pay US $0.5 for sticker and post charges US $2.5 by registered or US $1.5 by usual mail to PayPal account .
Russian amateurs should pay in Russian roubles 30 ₽ for sticker and 40 ₽ for registered or 20 ₽ for usual mail to PayPal account or by separate agreement.
In order to spare post charges, you can request several previously performed stickers in one mailing.
The Certificate with all the stickers will look like::